Blending the elegant tradition of Japanese
folk art with a distinctly contemporary flair
results in an innovative collection of handmade
pottery that is unmistakably Nichibei.

Visit us on Facebook!
Become a fan!
Join us for our favorite event of the year-
Saturday, April 27th, 1pm to 4pm
Visit Our Calendar for details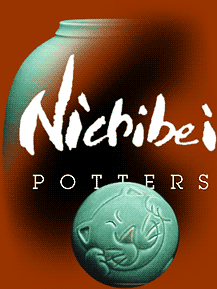 Watch a video of Cheryl working her magic!
Join our e-Mailing List
and have our Newsletter with all of our shows and events sent straight to your computer a few times a year. Stay in touch with our up-coming shows and special days when we open our studio to visitors.
Please be sure to put our email address into your address book so your computer will know our newsletter and email correspondence aren't spam!
potters@nichibeipotters.com

If you'd like to be on our postcard mailing list too
and receive our beautiful postcards a couple times a year please Email Us and include your name and mailing address in your email.

• HOME • EMAIL •

• vases
classic
• vases
sculptured
• teapots • bowls • cups • jars • animals • sculpture •

• contact • order • about us • calendar • gallery • links • videos 
_______________________________________________________