he works of Nichibei potters blends the elegant tradition of Japanese folk art with a contemporary flair resulting in an innovative collection of handmade pottery that is unmistakably Nichibei.

Works include bowls, vases, teapots decorative vessels and jars, sculptures, porcelain animals and dinnerware. The jade green color of many pieces is unique to Nichibei. The color is achieved by applying a copper glaze to porcelain clay and high-firing it in a gas kiln at 2,400 degrees.

Each piece represents the balance of form and function, sense and skill.


Mikio Matsumoto
worked as a commodities broker in Japan, but always had a keen interest in the arts. He became a potter after moving to California in 1985, and found clay to be a good medium for expressing his personal ideas. Mikioís sense of precision is visible in the meticulously carved jars, porcelain sculptures and carved animals.


Cheryl Costantini
has had a life-long interest in pottery, culture and traditional artistic values. In 1978 she traveled to Japan to study pottery. For the next 6 years she learned her craft by working in three Japanese potteries. Cheryl's commitment to traditon rather than trend is seen in her elegant vases and classic teapots.

Cheryl and Mikio formed Nichibei in 1985. Since then, the husband and wife team have shown their work at exhibitions in California, New York and Japan. Literally translated, Nichibei means "Japan and America."



TOP OF PAGE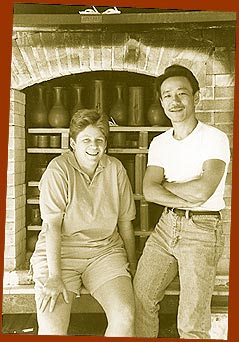 Nichibei pottery is distributed nationally and is available wholesale and retail.

The Nichibei studio is located in the rolling hills of western Sonoma County, just 60 miles north of San Francisco's Golden Gate Bridge. Visitors are welcome by appointment. Click here to to go to our Contact page for maps and drving directions to Nichibei.

To obtain a list of shows and learn of the days the Nichibei studio is open for special sales, please join our
E-mail List
. The Nichibei calendar will be sent straight to your computer several times a year.